The Washington Avenue Armory is rich in history and is now a multi-million dollar renovated complex containing a multi-functional arena with sound, lighting, and concert-quality acoustics in Albany, New York.
The Armory is a leader in the field among venues in the Albany area and hosts concerts, sporting events, conferences, cultural programs, conventions and more. With approx. 15,000 square feet of extended floor space, the Armory is ideally suited for large-scale performances. A 60′ x 16′ portion of the main stage is moveable to downsize the arena to accommodate smaller events, with a theater look and feel. With an overall capacity of 4,300 along with 1,200, 1,500, 2,500 and 3,200 capacity scalable arena layouts, the Armory can host any size event.
The Armory is the home of the Albany Patroons – a storied professional basketball franchise. Read more at patroonsbasketball.com. The Albany Patroons basketball floor was purchased from NBA team Toronto Raptors and resurfaced for the 2019 TBL Champion Albany Patroons. The floor and hoops are available for basketball tournaments and events.
For smaller productions such as comedy shows, stage shows, fashion shows and even sporting, the Armory features a powerful BOSE speaker system that can enhance the sound of any production. The technical expertise and dedication of the Armory staff ensure that audiences will be exhilarated and entertained with shows they will always remember. The Armory is conveniently located in downtown Albany and is a main attraction for audiences of varying tastes and interests.
The Armory also has 2 jumbo re-play screens & scoreboard, handling a capacity of 4,300 for concerts & conventions and up to a 3,600 capacity for sports, such as basketball, wrestling, boxing and even a one ring circus. The Armory boasts up to 25,000 square feet for flea markets, auctions, antique shows, motorcycle shows, car shows, home shows, ski shows, food shows, flower shows and more.
The Armory sits on the corner of Washington Avenue and Lark Street in downtown Albany. It was built in 1890 for the Tenth Battalion of the New York National Guard, designed by state architect Isaac Perry.[1] Since the earliest years of professional and collegiate basketball, several college and minor league basketball teams have played in the Armory, as there was no other suitable facility for basketball in the Albany area for many years.
Between 1982 and 1990, the Armory became home to the Albany Patroons of the Continental Basketball Association. After the Patroons moved to the then-new Knickerbocker Arena, the Armory fell into disuse and was the target of several reuse proposals including becoming the new home of the Albany Library System (whose main branch is next door to the Armory). In 2004, Albany Basketball & Sports Corporation bought the Armory and the renovated facility opened in September 2005, later that year becoming the home for a reincarnated Patroons. The Patroons return to their hometown court at the Armory in 2018!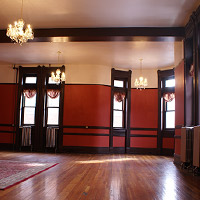 MEETING FACILITIES
Meeting facilities at Washington Avenue Armory provide the premier location for your conference, convention, or event. The 4 beautiful ballrooms are the perfect setting for your event whether your set up requires classroom, rounds, or any other meeting style. The Armory's Audio/Visual department can supply you with projectors, screens and any other meeting need. The Catering department can handle any size group with beverages and meals from coffee to cocktails and boxed lunch to plated dinners.
The Northway, the New York State Thruway, Interstate 90, Interstate 787, Interstate 88, and the Massachusetts Turnpike are conveniently accessible to the New York State Capital, Albany, New York. Albany is within three hours of New York City, Boston, Syracuse, Rochester, Hartford and Montreal. The Armory sits on the corner of Lark Street, on of Albany's most vibrant streets full of restaurants, shops and other attractions all in waking distance. In addition the New York State Capitol, Empire State Plaza, City Hall and State Street are just a block away.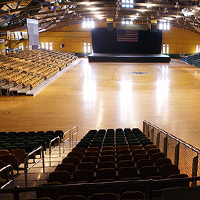 The Arena
The completely renovated Arena was built in 1891 in a castle-like setting and is equipped with a state-of-the-art Bose sound system, halide lighting system, and a 40′ x 60′ stage. Located on the main concourse of Washington Avenue Armory, the Arena features approx. 15,000 square feet without bleachers* (10,000 square feet with bleachers) of convention style space that can accommodate up to 4,000 in a theater or convention type setting. With just about 2,500 fixed seats and an open floor, ticket holders/attendees can have the option on whether to sit or stand in a General Admission situation. 
A 40′ x 16′ portion of the Armory's main stage is movable and a curtain is hung to create a more intimate, theater setting for smaller events. Speak to an Armory representative to learn more about this option! 
Reserved seating with ushers can also be arranged should your event warrant that need. The Armory also has an additional 800 comfortable folding, cushioned seats for the main floor upon request.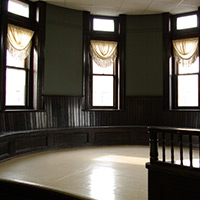 EXECUTIVE Parlors
The four Executive Parlors provide for a comfortable and relaxed choice for meetings, planning, or training. Two parlors on the facility's mezzanine level offer rooms that are 1,950 square feet each. These beautiful ballrooms have their own restroom and also feature a separate staging room for catering or office needs. The Armory's main floor has two additional spaces available, one of which includes a beautiful hand crafted wood bar and kitchen. 
The unique room detail, custom fireplaces and overall charm of each unique room will certainly surprise your attendees and enhance your event.
Contact an Armory representative today and request a tour!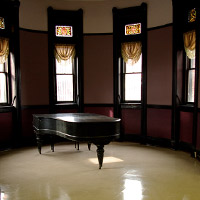 CONFERENCE MEETING ROOMS
The ten full-service Conference Rooms on the Armory's first and mezzanine level afford the ultimate flexibility for getting down to business. Seven professionally appointed rooms combine for up to 4,700 square feet of presentation space or as small as 200 square feet for a more intimate setting. The Conference Meeting Rooms offer a comfortable and upscale setting for important or private meetings.
9 Parlors and Conference Meeting Rooms along with the Arena's approx. 15,000 square feet provides a total of 20,300 square feet of meeting space for your convention and conference needs.
AUDIO-VISUAL & DECOR PROVISIONS
Enhancing your meeting with the proper presentation and decor is essential. Our experienced staff is of particular service in helping create the ideal environment for your event. Proper audio-visual techniques help you communicate your ideas effectively and the Armory will work with you to deliver a state-of-the-art presentation within a historic environment. 
SUPPORT SERVICES
The Armory provides a variety of support services for your event such as advertising, publicity, box office services, ticketing, operation equipment, production, labor or equipment, marketing and event staffing.
Each of these requested services is handled in-house by our experienced team.